It has been another whirlwind year at Englewood Construction and we are happy to report that our predicted 2014 commercial construction trends came true, which has meant a lot of new projects on our end.
The increased commercial construction activity paved the way for some large new retail construction projects and restaurant construction, as national retailers and restaurant owners became more confident in the improving economy. This year, we expect this activity to carry-over in a big way as national retailers, mall owners and restaurateurs position themselves for continued growth.
Now to get to it—our predictions for 2015 commercial construction trends:
1) Shopping center owners reshape the mall
Shopping center owners are embracing commercial construction projects to revive and revitalize the mall concept. Many national retailers are moving away from tucked-away corners in shopping malls, where they may have enjoyed lower rents, to premium areas with more foot traffic.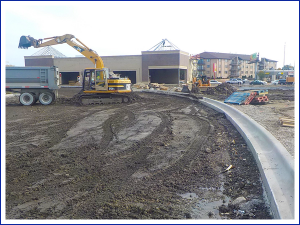 However, to help offset the cost of a more expensive center-court location, national retailers are opting to take smaller floor plates rather than replicate the same size corner location store. For shopping mall owners, this has meant finding ways to reconfigure areas with mall renovation projects to support more retailers with smaller footprints.
A strategy used by shopping mall owners to make this work is to improve sight lines for shoppers. When more retailers are packed together, some can get lost in the shuffle. Using a retail construction contractor to make both signage and showroom space visible to shoppers is imperative. Englewood recently did this with Harry Caray's 7th Inning Stretch and Chicago Sports Museum in Chicago's Water Tower Place. While signage was visible to shoppers, the restaurant space could not be seen from the escalators. So we pushed out the restaurant space to make it more visible and inviting. Based on the success of pushing out Harry Caray's to make it more visible, we expect to see a retail construction trend with more retailers calling attention to their store locations through creative commercial construction problem solving.
2) Ground up is on the up and up
We have seen a refreshing amount of ground-up commercial construction projects recently. While there still is ample space for retrofits, many retailers and restaurateurs have decided to build ground-up in order to meet brand standards. This has been great news for general commercial construction contractors. Just last month, we broke ground on a three new projects: Cooper's Hawk Winery and Restaurant in the Chicago area, a Season's 52 from Darden in New Jersey and a 55,000-square-foot Hobby Lobby at Seabrook Crossings in Seabrook, N.H. And earlier this year, we completed a ground-up retail construction project Goodwill in the Chicago area. It's always good to see this much dirt moving in the commercial construction industry and this activity should gain velocity in 2015.
3) New restaurant construction is back on the menu
Restaurant construction has been hot the past few years, but the majority of it was confined to upscale activity. That has changed in recent months, so when it comes to 2015 restaurant construction trends all signs point to a very robust pipeline across all product types. As consumers look to pay for experiences that can't be replicated at home, or, on-line, restaurant construction for fine dining, fast casual, and fast food concepts should all see a steady uptick. For example, Englewood recently began an expansion at white tablecloth restaurant The Purple Pig in Chicago, as well as the renovation of a Yard House in Kansas City's Power and Light District. Simultaneously, we're working with Red Robin and Buffalo Wild Wings in the fast casual arena to roll out several new restaurants in 2015.
While national commercial contractors like Englewood have a lot to look forward to in 2015, we're not done with 2014 yet. Don't miss our next blog post where we will cover the highs and lows of commercial construction this year.
Bill Di Santo
President
Tel: 847-233-9200 x710
Questions? Comments?
You can reach me at
bill.disanto@englewoodconstruction.com
www.englewoodconstruction.com