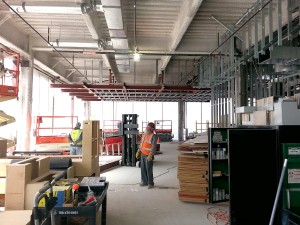 As we close in on the finish line for 2015, we're happy to report it's been a terrific year at Englewood Construction and for many others in the commercial construction industry. With economic conditions continuing to improve, the past year brought a significant uptick in large-scale and ground-up commercial construction projects, which put Englewood on track to more than double our volume from 2014 to 2015. We are optimistic this positive momentum will continue into 2016, but as always there are challenges ahead, too. Here are some of the commercial construction trends and factors we predict will shape the construction landscape in 2016:
Increased Competition Forces Existing Senior Communities to Update and Refresh
With average life expectancy increasing and more of the 77 million baby boomers reaching retirement age every day, demand for quality senior housing options has never been higher and will only continue to grow. We're already seeing a boom in senior housing construction as new communities pop up, particularly in suburban areas, but another avenue where we anticipate a high level of construction activity next year is existing communities that must refresh and remodel to stay competitive with new players. After all, seniors and their families are understandably selective when choosing among available assisted living options. We predict 2016 will bring a steady pipeline of work in this sector as existing facilities, looking to emulate the features and amenities offered by brand new centers, enlist trusted commercial general contractors for everything from large-scale renovations to simple cosmetic updates.
Locally Grown Restaurants Feed the Construction Pipeline
Also driving construction activity in 2016 will be continued opportunities in new restaurant renovation and construction – particularly as local and regional restaurant groups seek out ways to grow their brands and broaden their geographic footprint. Taking a cue from national restaurant brands that are increasingly serving up unique experiences, local restaurant groups are adding exciting concepts to their portfolios. Some of these restaurant groups, such as The Fifty/50 Group and Lettuce Entertain You, are becoming nearly unrecognizable from their core business model as they branch out into new territory such as nightclubs, food service venues and entertainment-driven concepts.
Likewise, many local and regional brands will capitalize on consumers having more disposable income for entertainment, and actively look for opportunities to expand outside their hometown market. Englewood has already been working with restaurant brands, including Cooper's Hawk and Earl's Restaurant and Bar, as they grow beyond their original geographic focus, and we expect that trend to continue.
Developers and Tenants Create Entertainment Zones to Drive Traffic
Food service and entertainment venues have evolved to a point that one feeds off of the other. In fact, restaurants, theaters and music venues are increasingly moving from individual stand-alone buildings to integrated entertainment districts. We are presently working with several real estate developers to create this type of environment in Chicago and its suburbs, as well as New York and Los Angeles. While there is an inordinate amount of infrastructure work involved with building multiple restaurants, theaters and music venues, the advantage of this concept is the spaces complement one another as opposed to competing. As more developers and tenants embrace this concept as a successful model for driving traffic, we see this trend sustaining for several years to come.
Labor Shortage Spells Higher Pricing, Scheduling Challenges
The good news is construction activity is up and subcontractors have an influx of work coming their way. The bad news is many of these subs cut back to a very lean team during the downturn, and have yet to recalibrate from a labor standpoint.
With a shortage of construction workers, subs are getting busier more quickly and, subsequently, are escalating their construction pricing. Already, we're seeing competitive construction bids that have shot up to pre-recession numbers in terms of costs. Besides impacting construction budgets in the year ahead, the construction labor shortage will make scheduling more important than ever. We'll be counseling our clients to consider scheduling projects in the off-season. They may be able to offset some of those increased construction costs – not to mention ensure labor is available to complete the project within their desired timeframe.
Be sure to check back with us in December as we wrap up 2015 with a look back at the highs and lows of commercial construction this year.
Bill Di Santo
President
Tel: 847-233-9200 x710
Questions? Comments?
You can reach me at
bill.disanto@englewoodconstruction.com
www.englewoodconstruction.com