I'll say it again, 2010 was a rebuilding year for the commercial construction industry. It wasn't as bad as 2009, but not as good as 2008. So I've created a commercial construction checklist for what we considered the highs and lows of 2010 commercial construction trends.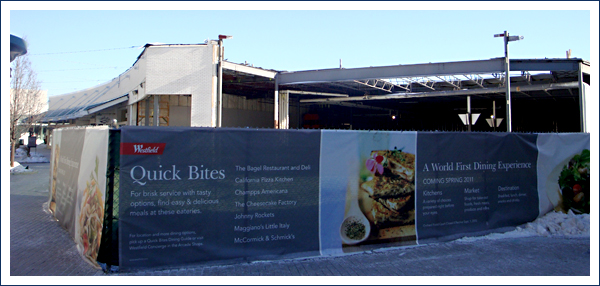 High – Shopping Centers. We saw much-improved activity in shopping center construction – not necessarily the building of new malls, but in general commercial contractors working with landlords and developers on pre-construction services, such as commercial construction budgeting to help them propose attractive lease deals for new tenants. With so much desirable retail space available, many brands were taking advantage of desirable shopping center rents and tenant allowances to add a new store location and increase market share. And of course the industry did see some notable shopping center renovations in 2010, such as Randhurst Mall in Chicago and Hamilton Plaza Shopping Center in New Jersey.
Low – Green building. While sustainable construction was a hot button in 2010 office construction, green retail and restaurant construction did not gain as much traction. While some retailers may be looking at using low VOC paint or furniture made out of re-manufactured materials, the certification for LEED retail and restaurant construction just isn't there. Now, as new shopping center developments are launched or landlords look to refresh their portfolio with a shopping center renovation, they could stand to gain long-term benefits from having a green shopping mall in the mix and will eventually recoup the sustainable construction costs that go into a project like this. But in the meantime it seems like the line on sustainable retail and restaurant construction isn't "no" but "not now."
High – Institutional Construction. Thanks to the stimulus plan and federal funding, institutional work in the education sector was a bright spot in commercial construction news this year and should continue to be strong in 2011. Health care construction also gave our industry a much-needed shot in the arm, including hospital remodels and additions as well as the construction of stand-alone doc-in-a-box locations and rehabilitation centers.
Low – Pop-up Shops. Usually limited to the holidays, pop-up shops went mainstream in 2010 with Pop-Tart World in Times Square. Sure, pop-up stores provide a short-term fix to vacant retail space, but in the big picture most pop-ups are not good news for the retail construction industry or shopping centers. Unless they become full-time tenants, like many Toys R Us pop-ups did the other year, pop-up shops are not a landlord's long-term solution to vacated space. Plus, in some cases pop-ups can actually de-value a property. We've seen too many pop-up shops that do slim to none construction improvements to their space. Or worse, the work they did, which is usually done in-house, actually highlights flaws in their temporary space or creates a safety hazard.
High – Franchises. The downturn in the economy prompted many people to embrace their entrepreneurial spirit and buy into a franchise. The restaurant sector in particular saw strong franchise growth, which in turn created a nice stream of new restaurant construction work for general commercial contractors. Sandwich and burger restaurants were particularly hot, including 5 Guys, Fatburger and Elevation Burger, but so were other chains like Noodles & Company and Mrs. Fields.
Low and High – Distressed properties. There are still far too many distressed commercial properties on the market. However, the good news is that toward the end of 2010 we started to see commercial developers and investors pick up those properties and decide to do something with them via a retrofit construction job, like the Waterview Tower and Shangri-La Hotel in Chicago – or at least work with contractors on determining the commercial construction costs to transform the property and turn it around.
High – Decreased construction costs. Commercial construction costs were at all-time lows in 2010, allowing many projects to get the green light. Except for commodity-based materials like copper, steel and petroleum, construction material costs were down for most items. Labor rates were also down, which of course made many commercial construction budgets look very attractive compared to two years ago. In turn, we saw a rise in bid activity.
Also, because commercial construction costs were down in 2010, the mentality of the lowest bid gets the job did not reign supreme as it did in 2009. As I've often said, do you want the cheapest doctor saving your life, or the best doctor? With so many firms watching their bottom line in 2009, they often hired pick-up truck contractors to keep costs down. Unfortunately this move proved costly to their projects as many of those commercial contractors did not have the experience needed for the job or the depth of quality sub-contractors that a national general commercial construction firm can provide. So it was refreshing to see 2010 bids awarded on merit, not price.
Let's hope the same holds true for 2011.
Bill Di Santo
President
Tel: 847-233-9200 x710
Questions? Comments? You can reach me at
bill.disanto@englewoodconstruction.com