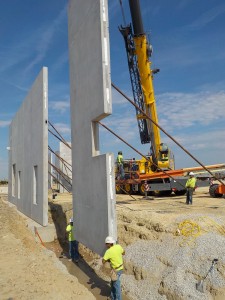 One of our current commercial projects at Englewood Construction is a new Farm & Fleet store we're building in Romeoville, Ill. It's a pretty cool ground-up commercial construction project for us because not only is it the first time we've worked with this national retail brand, but it's also the very first Farm & Fleet store in the Chicago area.
When I started thinking about it, we've actually been responsible for a lot of construction "firsts" for different clients over the years – from working with brands expanding into a new market for the first time (we built the first Red Robin in Chicago, the first Portillo's in Wisconsin and we're currently working on the first Eatsa in Chicago), to helping companies introduce a new retail or restaurant concept (we helped roll out the Burger Works brand, and going back a few years Englewood even built the first-ever Structure, Discount Tires, Famous Dave's, and Bath and Body Works stores).
Not surprisingly, whenever you do something for the first time there are bound to be challenges that pop up along the way. But from a construction standpoint, there are some key areas where choosing an experienced commercial construction firm can make all the difference in helping a "first" project go as smoothly as possible. Here's how:
1. Taking the guess-work out of conceptual construction budgets:  One of the biggest unknowns with a "first" construction project can be budget. After all, each new market has its own idiosyncrasies that can impact construction costs, and building a brand-new restaurant or retail concept for the first time almost always turns up some unanticipated budget surprises. The best way to limit those unknowns is by working with an experienced general contractor with extensive historical data to use as the basis for a sophisticated construction pricing model.
For example, at Englewood we've completed an array of national commercial projects – ranging from fast casual to fine dining, discount retail to high-end stores, and hospitality projects to senior housing. That wealth of knowledge is an extremely valuable resource when clients come to us to create a conceptual construction budget or help anticipate how costs will vary by market. When they ask us what a retail project is going to cost in Chicago, Miami or any other market, we can give them a solid estimate of cost per square foot based on hard data from similar projects in similar locations.
2. Working out the design kinks: When it comes to prototype designs and new concepts, there are going to be some details that, frankly, aren't worked out at the onset of the project. Sure, there are drawings and designs, but there are also usually details and ideas in the client's head that haven't made it on paper yet. A skilled commercial construction firm has the ability to ask the right questions to pull out those ideas, and collaborate with the client and other partners on the team as they develop and finalize their new concept. We're also able to look at plans for a brand-new concept and identify challenges or construction conflicts, anticipate where problems could arise, and even value engineer to make construction more cost-efficient.
3. Navigating the ins and outs of a new market: If you take a set of plans and build the exact same project in both St. Louis and Los Angeles, you're likely to have two very different experiences. That's because there are any number of variables impacting the construction and building process from market to market, such as:
Is it a union or non-union town?
What's the dynamic for working with the local jurisdiction, particularly the building department and inspectors?
What other local factors, from weather to traffic, could affect the project?
The best way to plan for these unknowns is to work with a national construction firm with experience working in markets across the country – and accustomed to anticipating and adapting to whatever challenges the market in question might pose.
A "first" project is always exciting for everyone involved. And by bringing in a construction partner with the flexibility, experience and know-how to roll with everything that comes along with a first-time project, the experience is bound to be an enjoyable and successful one all around.
Chuck Taylor
Director of Operations
Tel: 847-233-9200 x712
Questions? Comments?
You can reach me at
CTaylor@eci.build
www.EnglewoodConstruction.com