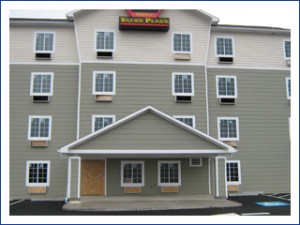 Whenever I see commercial construction news on high-profile stalled hospitality construction projects, like the Shangri-la Hotel and Waterview Tower in downtown Chicago, I always wonder if the construction site was not only safe and secure before it was shut down, but if it was preserved in a way so that the existing developer or a new owner could start it up again quickly once the construction loan or funding comes through.
When we took over the hospitality construction work last year on six REO hotels, we saw first hand how poorly the hotels had been preserved, which meant an increase in time, construction costs and safety concerns to complete the buildings.
Safety – A construction safety plan should be in place even if you're not at the site on a daily basis. Secure the outside of the building and property. An idle commercial construction site is just begging to be explored by anyone from the curious passerby, to kids or even vandals and thieves.

Have your general construction contractor board up windows and openings easily accessible from the ground.
Make sure the interior is secure, too. Cover all floor openings, like plumbing trenches and especially elevator shafts. Believe it or not, when we arrived at one of the REO hotels there was an open elevator shaft on every floor.
And while the lights might still be on at the project to ward off vandals, there should be no live, exposed wires or open electrical panels.
Inform the local police department about the condition of the site so they know to keep watch for vandals and transients.

Money – To keep your construction budget in check once the project starts back up you should plan for the following:

Secure construction materials so you don't have to pay twice. Pallets of brick, cement block or lumber should be locked up and stored inside the building so they can still be used when work starts again. Worst-case scenario, a vendor will have a lien on these items, so you don't want them to leave your site unaccounted for.  For instance, with the

REO hotels

we found copper piping removed from walls, lighting fixtures torn from walls and ceilings, and plumbing and HVAC units removed after being installed.
Vandalism can also run rampant in stalled construction projects that aren't properly locked down, which means someone will have to pay to clean up any mess.
Shut off the water. If pipes crack and water is still left in the lines, you're going to have to pay to replace damaged materials, if not a large portion of the structure.

Time – Unless your commercial construction contractor is familiar with REO projects or knows how to plan for a building to sit empty for days, weeks or months, time is not your friend.

Be prepared for erosion if your site is unfinished and exposed to the elements. With our hotel REO project, some of the sites had been graded in anticipation of a retention pond, but then it rained … a lot. By the time we began work we had to re-grade the site.
To make a project less susceptible to neglect, a structure needs building wrap on the outside before the project is shut down. We've encountered projects where it's just rotten plywood on the outside. Roofs also need to be tied down properly to protect the property from water and snow.
No matter how many site visits are performed, there are always unexpected and unanticipated conditions uncovered resulting in extending schedules and increased costs.
So whether you need to cease construction for a period of time on your site or you are acquiring REO commercial properties at discounted prices, align yourself with a commercial construction company well versed in this subject. Their construction services and ability to develop a rapport with the existing subcontractors and suppliers, inventory materials, and assess what can be saved or re-used, as well as properly protect a site from damage, neglect and safety hazards, can save you time, money and peace of mind.
Questions? Comments? You can reach me at bill.disanto@englewoodconstruction.com
Bill Di Santo
President
Tel: 847-233-9200 x710
Questions? Comments? You can reach me at
bill.disanto@englewoodconstruction.com