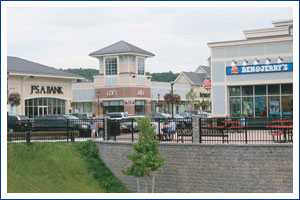 It's a mixed bag of commercial construction news for shopping center developement. On one hand, retail sales continue to show improvement from last year, yet the suburban shopping mall – or at least the traditional enclosed shopping mall – seems to be on the way out. So what's a successful shopping center developer to do with his or her empty mall?
According to the New York Times, there can be new life for a 'Dead' Suburban Mall'. We agree with the article that failed, outdated malls can present a great opportunity for building a new shopping mall, or retrofitting a shopping center. Just look at the transformation of Randhurst Village. If you're interested in turning your shopping center mess into a success, review our checklist below.

Qualify your team. Make sure the commercial construction team you hire not only has shopping center construction experience, but also retail and restaurant construction experience. You want a general commercial contractor who understands all parties' needs.
Plus, if you didn't have a restaurant in a space before, chances are you will now. Working with a commercial general contractor who can build in any of these disciplines will help you determine what can be saved, repaired, moved or redistributed from the existing infrastructure.
Also, heed my warning on hiring low-bidding pick-up truck contractors. I've run out of fingers and toes to count the number of commercial construction projects where we've rescued the job because of shoddy work by a GC who was in over his head. In the end, your lowest bidder may actually cost you more time and money if a job has to be done twice.

Save. Save. Save. Most retailers today want less space. Depending on your tenant mix, a shopping center contractor could be reconfiguring your space significantly. To do this effectively and efficiently, we need to review as-built drawings to see what big tickets items can be re-used and what existing infrastructure we can integrate into the re-design of the space to save on retrofitting a mall construction costs.
Structural steel, slab, the roof, HVAC systems, mechanicals, electrical systems – these are all up for re-use. Keep in mind, it becomes more important to re-use features when you're working with temporary or pop-up retail tenants than with long-term leases.

Being fuzzy on tenant mix is okay. The more information you provide, the more accurate the shopping center construction budget – especially if you plan to work with retailers who have proprietary facades. But due to our vast experience, we have construction pricing models in place for all restaurant and retail construction (high-end, low-end, big, small, etc.) work. We can even provide construction budgets based on square footage for typical-sized retail space even before you hire an architect.

Spend. Spend. Spend. Speaking of the architect, the more money you invest upfront to get the construction documents as accurate as possible, the more money you'll save on the back-end. You'll receive the most accurate subcontractor pricing and the fewest amount of construction change orders with highly detailed architectural drawings. And I know people don't believe this, but the best Chicago contractors hate change orders. It's just more paperwork and time on a job. Trust me, screwing in a light bulb is going to cost more as a change order than if it was in the original plan.
What malls do you think are in need of a re-boot?
Bill Di Santo
President
Tel: 847-233-9200 x710


Questions? Comments? You can reach me at bill.disanto@englewoodconstruction.com