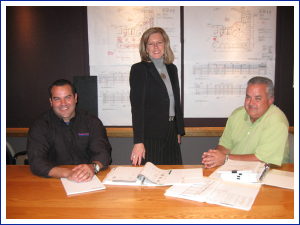 As 2011 comes to a close, it's time for us to look back on the commercial construction building trends, news and projects of this past year and share our thoughts on the highs and lows in the industry.
HIGH – Everyone was submitting drawings in 2011. We saw drawings for new Chicago restaurant projects, retail construction work, office renovations, school construction and learning center additions – you name it, we saw it. In fact, our commercial construction budget work was back to 2008 levels. It was optimistic and certainly gave us a lot of commercial construction news to talk about around the water cooler.
LOW – Unfortunately, we weren't the only ones receiving drawings to bid on new commercial construction projects. I didn't think the number of commercial general contractors bidding on one job could be higher than what we saw in 2010. I was wrong. Developers and retailers that would normally go 2 deep in bidding went 4 deep. And some firms had 11 GCs bid on jobs. To have a successful construction project, you should know who the best general contractors are in your field and not cast such a wide net. The quality and reputation of some general contractors allowed to bid on jobs was questionable at best. If you don't know who specializes in your line of business then start your search online with a query like "Chicago retail construction experts".
HIGH and LOW – Speaking of retail, there was an increase in retail construction projects, however most jobs were smaller in square footage than in the past. In fact, in some cases, the job was a retail remodel with a square footage reduction. That was certainly the case with Old Navy, which decreased the size of 300 stores while also completely rebranding the interiors. The positive construction news was this kept GCs busy and landlords retained a healthy tenant. The bad news in this scenario is that landlords are now getting less rent due to a smaller leased space.
The same high/low scorecard goes for many of the new fast-casual restaurant construction projects completed this year. A lot of neat burger and sandwich shop concepts are out there, but is this market segment becoming oversaturated? And even fast-casual restaurants weren't immune to a restaurant remodel/size reduction this year. Some chains said most of their business was due to take out. Why pay for the space if your customers aren't using it?
LOW – One thing we saw this year in Chicago as well as other union markets, is that retailers and developers said they didn't care if their project was built with union labor; they just wanted the best price. This makes it difficult to accurately compare general contract bids and your overall commercial construction costs as some GCs might not call out if they are using union labor, which is usually cheaper.
Due to our 20,000-plus national network of subcontractors, we can build a commercial construction project with union or a non-union labor. This comes in handy and can certainly diffuse conflict when the landlord of a shopping center construction project requires non-union labor, yet certain retailers in the shopping center need to be built with union labor. Regardless, there's no denying the union construction jobs/markets are taking a big hit.
HIGH – Due to the increase in commercial construction drawings we received this year, we needed to add to our staff. Luckily for us, there was no shortage of resumes and a lot of great talent out there. We all know there have been cutbacks in commercial construction jobs over the past few years, so it was great to get highly skilled people back to work again. We hope this uptick in commercial construction hiring can continue for others, too, in 2012.
As I look back on this year, there are a couple other significant "highs" I would like to acknowledge and people I would like to thank…
Clients who continue to build and grow
A construction team that stuck together during the downturn and
worked efficiently to ensure we didn't have to make staffing cutbacks
Our new teammates who offer great talent, new energy and new ideas
My family, as well as friends, colleagues and vendors
This crazy, yet great industry that we love so much
Wishing you all the best for the holiday season and
a prosperous New Year!
Bill Di Santo
President
Tel: 847-233-9200 x710
Questions? Comments? You can reach me at
bill.disanto@englewoodconstruction.com