Being a national commercial construction general contractor can be an immensely rewarding profession. There is always a sense of pride and accomplishment after completing a retail construction, restaurant construction and commercial construction project for a client.
Yet sometimes completing a successful commercial construction project and then detaching yourself from the client can be hard. It's easy to become invested in a client's overall operations, and, like all good service providers, we want to provide everything we can for them.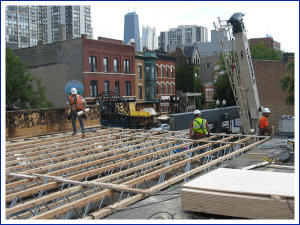 That's why a few years ago we launched our commercial facility maintenance division.  Clients would develop a comfort level with us through the commercial construction process and it seemed like the natural next step would be to provide comprehensive facility maintenance services for the projects we built.
After all, who better to maintain the property than the general commercial construction contractor who actually built it? This allows us to continue to show ownership of our construction projects, plus there continues to be only one point of contact for our client so our customers can focus on what they do best–run their business.
Our clients are not in the business of commercial facility management. They sell merchandise, deliver fine dining experiences and run enterprises. Anything that distracts them from performing their jobs could be detrimental to their business.
While we can't help oversee every aspect of their business, as a commercial construction company we are more than qualified to solve any issues regarding their commercial facility maintenance. When Englewood is brought into the fold, we are the first and only call our customers have to make.
If a client has an HVAC issue, they don't need to research various vendors. Call us, and we take care of it. They should be selling their product, not negotiating with vendors.
When it comes to commercial facility maintenance, there are really three levels that building users have to keep in mind.
Commercial property preventative maintenance. This focuses on prolonging the life of building systems. It's good to have regular check-ups on the performance of such vital systems as HVAC units, plumbing, and fire protection. Staying on top of these issues helps to assure that your commercial property building is always functioning normally and helps avoid costly repairs. In case you need a refresher on how important preventative maintenance can be, read our earlier blog post – Lessons from BP: The Ultimate Checklist for Commercial Construction Preventive Maintenance.
Scheduled commercial property maintenance. Some systems or commercial construction features need regular upgrades that have to be accounted for. Updating electrical fixtures, painting and finishing repairs for flooring and walls fall into this category.
Emergency and disaster preparedness. This is perhaps the most important category and should be on the mind of all business owners. Everything from mechanical malfunctions to natural disasters can disrupt a business for an indefinite amount of time. That's why our facility maintenance service has a four-hour on-site response time with all of our clients.
Not every problem can be solved immediately, but the faster we are able to enter a commercial property, assess damage and address the problem, the better off the client will be. In one case, a new retail construction property had extensive fire damage to its roof. We were able to remove and replace the roof in just two weeks, allowing the business to begin operations again and saving our client lost revenue.
We've dealt with hurricanes, floods and even riots. During the NATO Summit in Chicago in 2012, we actually had clients put us on standby in case of any potential commercial property damage from the protests. Luckily, our services were not needed.
The big take away from all of these services is that the right commercial facility maintenance can serve as the best insurance policy and save you thousands in facility maintenance costs.
Although this service grew out of existing client relationships and the natural synergy we have with the projects we built, it has extended beyond that. The program's success makes it applicable to commercial construction projects we have not built as well. Because of our experience as a general contractor, we can study commercial building floor plans and conduct an on-site analysis to review all the important details of the property. From there, we can provide the same level of facility maintenance service we would for a property we developed.
This partnership allows Englewood to do what we do best–take care of buildings–while our clients get to do what they do best–take care of their business.
Bill Di Santo
President
Tel: 847-233-9200 x710
Questions? Comments? You can reach me at
bill.disanto@englewoodconstruction.com