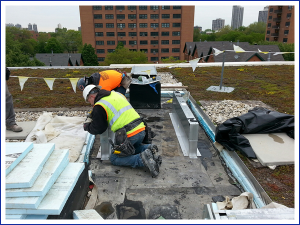 With back-to-school season here, it's exciting to think about students heading off to pursue a degree or certificate in a construction field. Anyone who does so is probably making a smart move – according to a recent study, construction is the industry with the second largest talent shortage in the U.S., and the Bureau of Labor Statistics shows employment for construction managers will grow 16 percent (faster than average for all occupations) from 2012 to 2022.
But the interesting thing about commercial construction is all the different paths people take to end up in this industry. Many prepare for a commercial construction career with a formal education, whether it's a college degree in construction management, engineering or architecture, or a related field. Take for example Englewood Construction President Bill DiSanto, who is a licensed architect through the University of Illinois. Our team also includes many project managers and staff members with construction degrees, and even several MBAs. But typical of any construction office, there are also plenty of people like myself who worked their way up through the industry, and have extensive knowledge based on years of field experience.
At Englewood Construction, we see tremendous value in those diverse backgrounds. But a client vetting a commercial construction firm might wonder if there are specific credentials they should look for to ensure a successful construction job, or if they should place more weight on the contractor's real-world experience?
I think most of our clients would agree their top priority is working with the best national general contractor who has a portfolio of successfully completed projects and a long list of satisfied clients as references. However, with the many licenses, training and continuing education opportunities out there for construction professionals to enhance their expertise, it's important for clients to understand what value they add. Here are just a few examples:
Contractor Licensing – There is no state contractor's license in our home state of Illinois, but many other states and municipalities require a contractor be licensed to do business. A license basically tells you a contractor met the minimum requirements to obtain one – usually passing an exam and paying a fee – so it's not a great gauge of a company's experience or reputation. But in some scenarios it's necessary to find a contractor with the appropriate license. That is one advantage of working with a national commercial contractor like Englewood – we hold licenses in many states and municipalities, so we are qualified to do work across the country.
LEED Accreditation – Contractors with Leadership in Energy and Environmental Design (LEED) certification through the U.S. Green Building Council have passed an exam on green building practices and the LEED rating system. This designation primarily indicates a contractor is well-versed in the requirements of achieving LEED certification for a project. But keep in mind that a construction firm does not have to hold LEED credentials in order to be skilled at implementing sustainable commercial construction techniques. In fact, as building codes have evolved to catch up to LEED standards, many of these best construction practices are followed by experienced commercial contractors as a matter of course.
Safety and OSHA Training – Safety is a priority to all of our clients, and meeting OSHA training requirements is an important credential for any contractor. But for us, ensuring our job sites are safe by training our superintendents and staff in the best safety and general construction practices is more than just a requirement – it's part of our culture and something we do for the benefit of our own people. If a contractor isn't making safety a top concern on their own accord, that should be cause for a red flag.
But perhaps one of the most important things to look for in a general commercial contractor is an environment that values learning. Years ago, I met a carpenter who said he tried to learn something new every day. That sentiment is so critical in an industry as vast and varied as construction where there's always a new challenge. And like most industries, construction is continually evolving, particularly as we advance with technology to stay relevant and service our clients better. So is your contractor eager to implement the newest online platforms and streamlined processes? Are they working with subcontractors to educate them on the best ways to do business together? Are they like that carpenter, always looking for an opportunity to learn something new? If so, then that is probably the most important credential of all.
Chuck Taylor
Director of Operations
Tel: 847-233-9200 x712
Questions? Comments?
You can reach me at
chuck.taylor@englewoodconstruction.com
www.EnglewoodConstruction.com