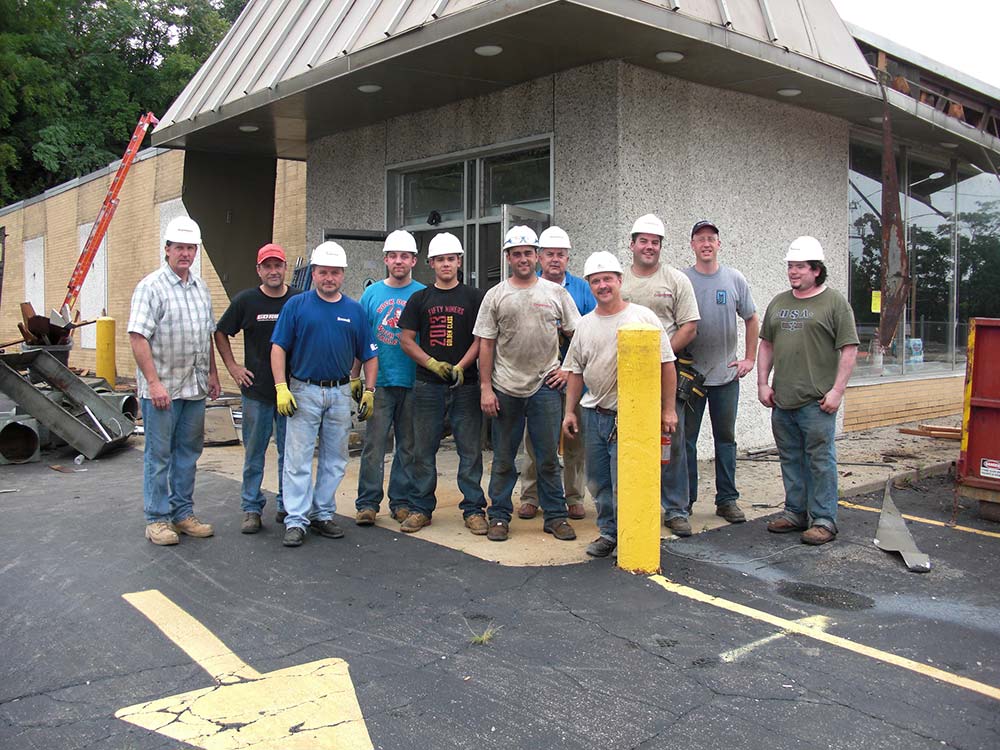 Happy New Year to all of our Hard Hat Chat readers! Earlier this month I was going through my post-holiday emails when I came across a Construction Dive article on 5 New Year's Resolutions for Construction Pros in 2017. Reading the story got me thinking about Englewood's goals and strategies for the year ahead. In the spirit of sharing, here are three key things we'll be focusing on in 2017:
1. Focus on client relationships, not just client services
Pretty much any national general contractor will tell you they're in the client service business, but over the years we've developed a philosophy that focuses on building relationships with our clients so that we're a trusted construction partner, not just another vendor.
A big part of going from a vendor to a partner is providing insightful counsel and realistic expectations at all stages of a commercial construction project – even if it isn't necessarily what the client wants to hear. Too often in a competitively bid construction project, contractors are awarded the job based purely on their bottom line, without being involved in any upfront planning or discussion of design intent. Not only can this lead to unrealistic requests and expectations from the client because there hasn't been a conversation about factors that could impact the construction schedule and budget, but it can also create an adversarial relationship from the start.
Instead, we want to have a give-and-take with each client, weighing in early as the construction experts who know what it will take to get the job done. For example, by talking early-on with a client about the landscape of a particular market, the expectation of the municipality, how long construction permitting and inspections will take and the time our team needs to line up subs, order materials and mobilize, we educate them about construction timelines and avoid scenarios where the client sets an aggressive opening date without considering those factors. This type of working relationship allows clients to get more out of their construction partner, and also ensures a smoother experience all around.
2. Promote a collaborative culture
One thing we are incredibly proud of at Englewood is the diverse background of our staff. Our team includes everyone from seasoned construction veterans with 25+ years of experience, to fresh-faced new hires for whom Englewood is their first job. Add to that the fact that we have people like me, who started out in the field and worked their way up, to individuals with degrees in construction management, architecture (take the big guy, Englewood President Bill Di Santo, who has a degree in architecture from the University of Illinois), design, engineering and more. We value having all those different perspectives at the table, and are always searching for ways to help our staff grow and learn from one another.
This year, we're looking at implementing a series of committees made up of staff with varying backgrounds to address different aspects of our business. The idea is to approach opportunities with a "brain trust," while also fostering an environment where committee members can benefit from and build on each other's knowledge.
Our first committee is going to be dedicated to construction technology, and we envision bringing together our 'young kids' and anyone else who is passionate about exploring new construction technologies. We expect there to be thoughtful and engaging questions about the challenges in implementing new systems and how they will impact our clients, our subcontractors and our business. We're going to take this collaborative, committee approach to other areas too – from our social outings and team building functions to client relations and business development.
3. Streamline our processes
Commercial Construction is a business with a lot of moving parts, particularly as a general contractor coordinating between the client, municipality, multiple subcontractors, any number of suppliers, and other players. That makes it vital to have well-oiled processes in place to keep everything running smoothly – from initially putting the project out to bid, to the final construction closeout. We know we already do a lot of things really well, but our goal is to create a culture where we constantly evaluate our processes with a critical eye to ensure we're identifying new ways to improve them. That's especially important today, when there are so many new technologies and innovations coming online with the potential to change how business is done in the construction industry.
An example of this evaluation process was when our estimating department moved to an entirely digital construction bidding process several years ago – an effort that included training our subcontractors to use our new sophisticated technology. By going digital, we eliminated many costly and time-consuming steps, improving our efficiency. More recently, we've been working with our CFO to streamline our construction accounting processes, putting excellent systems and platforms in place so our project managers spend less time chasing paperwork, which means project closeout can happen faster.
We're excited about what 2017 has in store and the future opportunities it brings to grow and build our business. We wish everyone much success in the year ahead!
Chuck Taylor, Director of Operations
Tel: 847-233-9200 x712
Questions? Comments?
You can reach me at
CTaylor@eci.build
www.EnglewoodConstruction.com