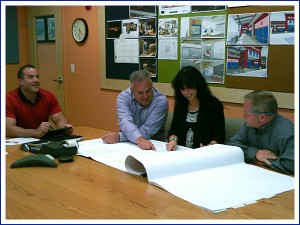 While there are three sides to every story, recent commercial construction news stories like this one from the Chicago Tribune, "Construction firm caught in contract probe", really burn me up. If the story proves true it not only is a blemish on the commercial construction industry, but it shows a violation of trust with a client.
I don't mean to come off as preachy, I'm just mad. We're all fighting for new construction jobs, but that's no excuse to abuse the system. The best Chicago construction firms play by the rules and do business above board. Even though that sometimes means the good guy doesn't win the bid.
Case in point, we've given up $4M in new commercial construction work this year because we decided not to go after jobs where the client was only interested in the lowest commercial construction bid. Pursuing those jobs meant we would have had to use shoddy subcontractors or non-union labor where union labor would have been best. We'd rather pass up the job than attach ourselves to subpar work.
That's not to say there are bad non-union trades out there, but if you're in a union market and want the best final product, use the union construction trades as the unions offer extensive training that you can't get anywhere else. And if you're not in a union town, like Miami, then align yourself with the best vendors. As a national construction firm, we work with more than 20,000 of the best commercial construction subcontractors out there, so whether we're working in a union town or a non-union town, we can pull the best vendors for that job.
And yet, when we work in union markets like Chicago, Boston, New York and St. Louis we still get asked by clients, "Can we sneak this in non-union?" Playing fair starts at the top. As businessmen, we understand you're worried about commercial construction costs and adhering to a construction budget. But would you rather have your new restaurant construction job or shopping center renovation completed the right way or the cheapest way?
The president of our firm, Bill Di Santo, has a great way of putting it – if you had to have surgery, who would you want to perform the operation? The doctor that charges the least, or the one that would do the best job? That doesn't mean the best doctor can't also be the cheapest doctor, but you've got look at what matters most – price or quality?
We recently lost a new Chicago restaurant construction job to a general commercial contractor that used non-union labor costs in its winning low bid. All the GCs were told to bid the job with union labor, but this construction contractor was more concerned with wining the job than playing by the rules. In the end, the non-union worker got carded on the site and kicked off the job, the restaurant was delayed a week as the GC had to find new labor, and of course the contractor also had to pay for labor twice – once to the non-union worker, plus the new union labor. Was this really worth it in the end? Would you want to use a Chicago commercial contractor who lies to his client?
So just what is behind that low bid number? With that bid are you also aligning yourself with a successful general contractor? Does the bid come from a construction firm with a good safety record? How much retail/restaurant/office construction experience does the firm have? Is the commercial construction team passionate about your work or are you missing the obvious signs that your general contractor just isn't that into you? What about the firm's reputation, track record and ethics?
The bottom line is it shouldn't always be about the bottom line.
Chuck Taylor
Director of Operations
Tel: 847-233-9200 x712
Questions? Comments?
You can reach me at
chuck.taylor@englewoodconstruction.com
www.EnglewoodConstruction.com