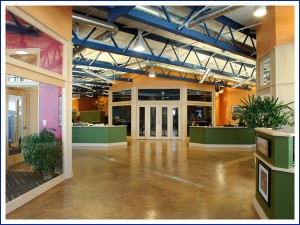 Recently, our director of operations Chuck Taylor was featured in a Chicago Tribune article based on the reporter's curiosity about a hotel peephole he kept in his office. What made this peephole so interesting was that it was salvaged from the hotel construction renovation we did of a HoJo in Chicago. More specifically it was from the room where O.J. Simpson stayed before his infamous Bronco police chase.
When working on a commercial construction retrofit, you never know what items you may come across. While some need to be tossed, there are a number of items and fixtures you can reuse to decrease commercial construction costs, others you could donate, and then you may even find one or two items to hold onto due to their uniqueness – like the peephole.
Darden, which has a number of restaurant construction jobs underway with its Red Lobster, Olive Garden and Seasons 52 brands, donates a large percentage of materials from its restaurant renovations to Habitat for Humanity, which then sells the reusable items. Not only is Darden encouraging green construction by donating their items for other new restaurant construction projects, but the company can write off the donations so it ultimately saves on construction costs as its overall bottom line is stronger.
When it comes to new office construction or an office retrofit, we know first hand how many materials can be recycled from an existing site or office.  In the fall of 2010 we moved into our new, bigger, brighter and more energy efficient headquarters in downtown Lemont, Ill., to be more centrally located to our staff and Chicago commercial construction projects.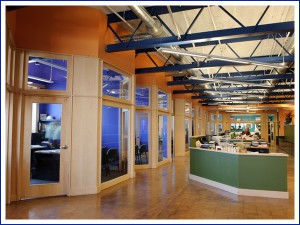 During construction, we tried to reuse as many materials as possible to not only keep construction costs down, but also have a more sustainable construction project. The work stations from our old office were fine, so we reused those, as well as all file cabinets and chairs. We were also able to use the building's existing HVAC units, which was a healthy decrease in office construction costs. For a nominal cost you can have the existing HVAC systems of any site checked out to confirm their age and condition. The best commercial general contractors can find the right HVAC team to do that job.
We also kept the exterior brick of our building, but we did stain the bricks, and we retained most of the concrete flooring, but gave it a face lift with a new stain.
Other items you may by able to reuse in your construction retrofit include:
Electrical panels and service – they can be reused or reworked in most construction jobs unless the power component changes
Bathrooms – can they work in their existing locations?
Back of the house – for a restaurant construction retrofit, can you use existing shelves or simply regrout existing tile. Most of an operator's money is made up front and not back of house anyway, so this is a smart place to save on restaurant construction costs.
Light fixtures – for one retail construction project, we repurposed a chandelier by finishing it in a different color
So before you toss out the baby with the bathwater in your next renovation project, consult with your commercial general contractor to see if you can reuse, recycle or repurpose any materials. Who knows, maybe a reporter will be interested in your story, too.
How have you creatively reused materials from a project to save on construction costs?
Bill Di Santo
President
Tel: 847-233-9200 x710
Questions? Comments? You can reach me at
bill.disanto@englewoodconstruction.com