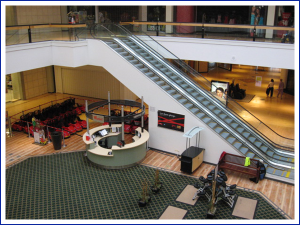 Even in the best shopping center developments, not all spaces are created equal. Many shopping centers owners have difficulty leasing or keeping consistent retail tenants in certain portions of their shopping mall. In our shopping center construction experience at Englewood Construction, we have found that anchor tenants and smaller tenants in the center of the shopping center typically thrive, yet some pockets do not generate the traffic or the buzz necessary to create a successful retail development.
Surprisingly, the spaces that typically do the worst business are stores right next to shopping mall anchors. Commonly shoppers either visit anchors at the shopping center development, or, they enter at an anchor store and then make a bee-line for the center of the shopping mall, passing most retailers in between. This creates a problem for shopping mall owners.
Never fear. While admittedly there is no silver bullet for leasing woes, a good commercial general contractor can help make some minor changes to a shopping center development that may provide a boost to struggling tenants and help shopping mall owners capture higher, more consistent rents.
Here are four ways shopping mall owners can improve their property with minor shopping center construction projects.
Move the escalators. Changing the flow of a shopping center development is one of the best ways to bring traction to less-visited portions of the mall. Most shopping malls have escalators in the center of the development. By moving escalators to the corners of the shopping center development and adjacent to anchor tenants, shoppers can now spend idle time on escalators and perhaps see stores they would otherwise simply pass. It also gives them a chance to check out both floors of the mall's hard-to-sell areas. Englewood successfully completed this for Westfield at the Fox Valley Mall in Aurora, Ill. and the Hawthorn Mall in Vernon Hills, Ill. Once we were able to adjust traffic flow for mall owners, tenants around the newly located escalators began to fair much better.
Install more kiosks around new escalators. Kiosk owners often pay the highest rent per-square-foot in shopping center developments to be in areas with the highest foot traffic. While they are typically drawn to the center of the mall, the new locations of the escalators will create more opportunities as the majority of the mall's shoppers will pass the kiosks at some point during their shopping trip. The center of the mall will still attract kiosks, but these new high-traffic retail areas will create more opportunities to secure quality rents.
Increase gross leasable area (GLA) by removing decorative pieces. Fountains are nice, but, let's be honest, they don't generate revenue. Most shoppers just fly right by such decorative pieces and never give them a second thought. It's probably best to initiate an easy shopping center construction job and take these decorations out to increase the mall's GLA. Shopping mall owners could add a coffee shop or a food station. Both would generate more revenue and probably be more of an attraction to shoppers.
Create an entertainment area for children. While it may not be a direct revenue generator, it can help drive traffic to a specific portion of the shopping center development and also attract certain tenants. By developing a play area for kids in a slow corridor of the mall, mall owners could see foot traffic increase. More importantly, this demographic concentration would appeal to retailers such as toy stores or a children's clothing store. By bringing targeted shoppers and tenants together, a formerly slow portion of a shopping center development could be revitalized and tenants could have an easier time achieving solid sales.
These are all relatively easy shopping center construction projects that can really benefit tenants, which in turn will help strengthen the balance sheets of shopping mall owners. No shopping center development is perfect, but a good retail general contractor can be an owner's best tool for turning a mediocre shopping mall into a highly-profitable retail development.
Read related post by Englewood Construction on Shopping Center Construction and Development:
Commercial Construction Real Estate Trends from ICSC 2014
Commercial Construction Checklist for Retrofitting a Shopping Center in Today's Climate
Retail Construction Trends: Shopping Center Construction Enters Renaissance with Renovation Work
Chuck Taylor
Director of Operations
Tel: 847-233-9200 x712
Questions? Comments?
You can reach me at
chuck.taylor@englewoodconstruction.com
www.EnglewoodConstruction.com