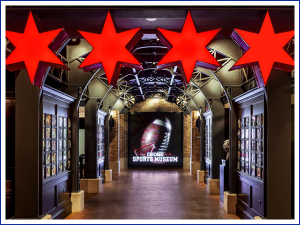 Shopping center owners aren't the only ones attempting to create a new and exciting experience for consumers with commercial general construction projects, restaurateurs are getting into the game as well.
New restaurant construction projects are booming right now, but just because the market is hot, it does not ensure success. Smart restaurant owners know that attracting a diner's attention is harder than ever. People can get a burger anywhere, so the goal is to set your burger apart. Sure, luring diners can be done through menu selections and creating a nice ambiance, but more restaurant owners are realizing that creating an experience with a unique commercial construction project can be a winning recipe for success.
This isn't a completely new concept in restaurant construction, but it's safe to say it has become a bit more sophisticated. This kind of national restaurant construction has its origins in the sports bar model during the 1990s, where, owners strove to lure clients with the best sports viewing experience and interactive gaming options. The wings and beer were good, but the social atmosphere and interactive entertainment were what really drew patrons. After all, the sports games they show are the same that broadcast to your living room at home. Operations like Buffalo Wild Wings, who Englewood is currently working with on the national restaurant chain's second Chicago location, perfected this model.
We can also see this kind of experiential restaurant construction in successful theme restaurants like the Hard Rock Café, which Englewood team members have worked on, House of Blues and the Rainforest Café. People rarely talk about the food they have at these establishments, but instead visit because of the dining experience they offer.
Restaurateurs now are taking this new restaurant construction to the next level and developing attractions that are destinations in their own right. Last year Englewood completed the 22,928-square-foot Harry Caray's 7th Inning Stretch at Water Tower Place on Chicago's famed Magnificent Mile. The restaurant houses the 8,000-squre-foot Chicago Sports Museum, which features five exhibits, from unraveled sports mysteries to a hall of legends, offering a highly interactive experience for visitors to explore the legends and lore of Chicago sports. Admission is free with a dining receipt, but due to interest and demand, Harry Caray's also allows visitors to pay separately to tour the museum, view the memorabilia and participate in the interactive displays highlighting Chicago's sporting past. It's been a huge success.
Concert venues have become a popular option for new restaurant construction too. These aren't hastily slapped together stages as an afterthought, but rather restaurant owners consciously deciding to make live music and entertainment a part of their full-service restaurant. Places like Toby Keith's I Love This Bar and Grill have made live music a part of the experience. As have locations like S.P.A.C.E. in Evanston, Ill., which is attached to Union Pizzeria, and several other hot concert venues in the Chicago area. These Chicago restaurant construction projects have been very successful and often draw big name artists, attracting concert goers, and, diners.
In another twist in the restaurant construction game, some business owners are building out new restaurant locations into their established businesses to help create a more well-rounded experience. This has become very popular with movie theater and bowling chains. One example is Cinebarre. To help increase revenue at many of its locations, Cinebarre converts one of its theaters to a full-service kitchen and removes every other row in the remaining theaters to allow for dining tables. This dining/movie experience has helped keep the theater chain relevant and vital, attracting new customers and opening a new revenue stream with food and beverages.
As we see more restaurant construction in the coming months, expect to see more concepts that offer a unique experience. In many cases, a fresh menu isn't enough to get diners excited anymore. They want entertainment and an experience they can talk about.
Chuck Taylor
Director of Operations
Tel: 847-233-9200 x712
Questions? Comments?
You can reach me at
chuck.taylor@englewoodconstruction.com
www.EnglewoodConstruction.com