It's been a busy year in the grocery business, with major brands announcing store expansion and renovation plans, new concepts entering the market, and big deals such as Amazon's acquisition of Whole Foods spurring speculation about the future of the industry.
With so much activity in the sector related to new store expansion, scouting new sites and making remodeling plans, smart grocery brands are tapping commercial construction partners with expertise in grocery store development to help navigate specific considerations that come with a grocery store construction project. At Englewood Construction, we've worked with a number of grocery brands, big and small, in markets across the country. Here are some key construction tips we advise grocery clients on before they begin a project: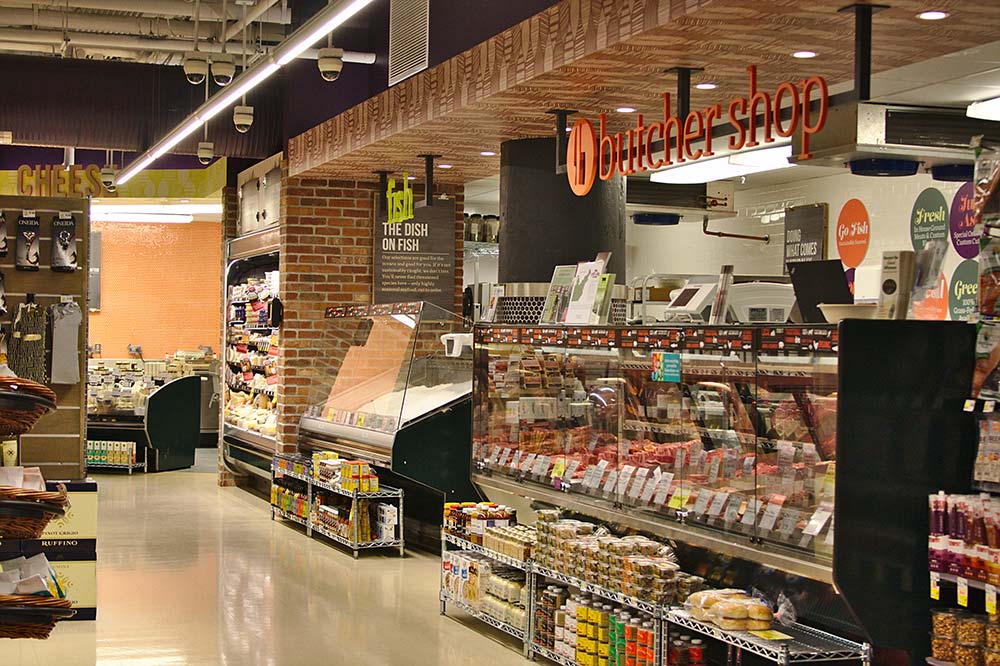 Weighing In On Site Selection
For grocery concepts entering new markets, construction site selection is about more than finding the right location at the right price, which can be a challenge in and of itself in the current real estate landscape. Brands also need to consider how a particular site's unique challenges – and related costs – will affect the project's bottom line. Typically, national grocery chains have their store prototypes dialed in so well that they know, within a certain percentage, what their actual building construction costs will be from region to region; however, the cost of site improvements is a real variable that can make or break a deal. For example, depending on a site's soil makeup, timber piles may need to be driven into the ground or concrete caissons poured to support a building's foundation. Or, in rocky areas, stone-blasting may be necessary to prep a site for construction work.
That's one reason it is so beneficial to tap a knowledgeable commercial contractor from day one. Our clients often call us to look at land and be involved early on, because we can anticipate the prep work associated with a specific site and help budget for site improvement costs.
Vetting "Second Gen" Stores
An alternative to building on a brand-new site is to instead pick up a vacated grocery store and rebrand it. These "second gen" stores are a way for grocery brands to get into a new location fairly inexpensively, since the potentially pricey infrastructure necessary in grocery locations, such as extra compressors and rooftop units for refrigeration, are already in place.
The flip side is that just about every fixture and finish in a vacated store will be standard to another grocery chain. Depending on how much the grocer wants to spend on renovations, they may have to compromise a bit on updating things like flooring, lighting and displays to match their own brand. Likewise, although expensive infrastructure like refrigeration and HVAC are in place, they could possibly be at the end of their life expectancy or require maintenance. Before deciding on a second-generation store, it's smart to enlist a grocery construction partner to evaluate if building systems are operational, or in need of repair or replacement, so those costs can be considered as part of the overall grocery construction budget.
Readying for Renovations
Other grocery chains not in expansion mode are instead evaluating their existing store spaces and planning grocery store remodeling and addition projects – oftentimes to compete with new concepts opening in their market. We've worked with quite a few brands to bid out grocery renovation work, and we always advise keeping in mind how to ensure customers feel comfortable and safe in a store under construction.
One strategy is to use barricades and barriers to cordon off construction areas during business hours, but depending on the scope of the project another popular option is to complete the work afterhours. That can be more difficult in markets with lots of construction activity, meaning subcontractors are booked up and don't necessarily want or need after-hours work to keep their crews busy. For our grocery clients, that can mean paying a premium for construction labor outside the typical 7 a.m. to 3:30 p.m. construction crew hours. However, we usually find subcontractors are more receptive to night work during non-peak seasons of the year. If clients are able to plan their renovation to take place in slower months like January or February, subcontractor partners may be more open to accepting 'filler' work to get them through to the busy spring construction season.
Like any construction project, there are a lot of unknowns and behind-the-scenes work that go into building or renovating a grocery location. If you have a project coming up you'd like to discuss, give me a call – we're always hungry for work in the grocery industry.
Chuck Taylor, Director of Operations
Tel: 847-233-9200 x712
Questions? Comments?
You can reach me at
CTaylor@eci.build
www.EnglewoodConstruction.com