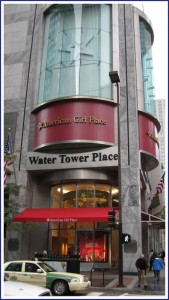 Not too long ago, many retailers and shopping center developers were getting a bit nervous as e-commerce began taking a bite out of their traditional in-store business. As a national commercial construction firm, we too experienced a slowdown in retail construction as many clients elected to construct smaller foot plates to save costs, give their existing space a light refresh rather than a full remodel, or simply held off on constructing new retail spaces as they figured out their next move to stay competitive.
But eventually things began to equalize, particularly as smart retailers and shopping centers reimagined their physical locations and worked with their commercial general contractor to create experiences that would give customers a reason to repeatedly visit their stores. Now, retailers are realizing there's space for both online and bricks-and-mortar players in today's omni-channel marketplace. In fact, one interesting 2015 commercial construction trend we're seeing is the movement of online-only retailers entering the bricks-and-mortar world.
Bauer Hockey, Warby Parker, Blue Nile, Birchbox, Everlast Worldwide, Garnet Hill, and even e-commerce giant Amazon are just a few of the brands that have recently announced or opened physical storefronts. So what's behind this clicks-to-mortar movement, and what does it mean for the future of retail construction?
In short, online brands are realizing the one thing missing from the online shopping experience is the experience itself. As much as consumers love the convenience, variety and great deals they often get when shopping online, there's no replacing the opportunity to test out the latest gadget, try on a pair of jeans, or talk face-to-face with a knowledgeable salesperson.
As an experienced retail general contractor, it will be interesting to see how these online brands choose to create their retail locations. We know firsthand at Englewood Construction how vital it is for any company to evolve and stay relevant – that's why we've tried new things like launching this blog and revamping our website.
For retailers, it's especially important to stay relevant as trends come and go. Today, the hottest retail destinations are stores like Englewood Construction's long-time client American Girl, where shoppers can completely immerse themselves in the brand experience, and successful shopping center developments that have evolved to offer extensive entertainment options, fine dining and more. No doubt we'll all be watching as these online players evolve and step into the in-store world. And I'm sure more than a few of us will take inspiration from how they interpret their brands in physical spaces.
Of course, it goes without saying that for any brand new to opening a retail store, it's important to work with a successful national general contractor well-versed in retail construction timelines and a shopping center's holy trinity, not to mention the best safety and general construction practices. And whether you're building a new bricks-and-mortar location or revitalizing an existing one to create an exciting new experience, bringing your commercial general contractor in on the ground floor will ensure the process goes as easy as possible – like the click of a button.
Chuck Taylor
Director of Operations
Tel: 847-233-9200 x712
Questions? Comments?
You can reach me at
chuck.taylor@englewoodconstruction.com
www.EnglewoodConstruction.com