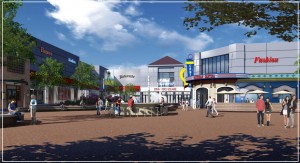 While the shopping center experience is far from over, it's safe to say that shopping center developers and owners are working harder than ever to compete for foot traffic. The rise of on-line shopping has been a boon to retailers, but if we are honest, it has been detrimental to commercial general construction, with the closing of many brick and mortar retail stores.
That's why savvy shopping center developers are developing new strategies to compete and win against online retail. This strategy to create an experience, rather than just a shopping mall development with a lot of big name retailers is a step in the right direction. By creating an entertaining environment, shopping center developers are betting that it will bring foot traffic back to the mall. This crowd may not be there for a shopping experience first and foremost, but the longer they stay the better chance they have of becoming a traditional shopper.
By partnering with experienced commercial general construction firms, shopping center owners are redeveloping or adding on entertainment options at shopping mall developments that may not have been the norm 10-15 years ago. These new options create the desired experience that shopping mall owners are trying to achieve.
Some of these new shopping center development options include:
Fine dining. While retail items can be purchased on-line from the comfort of your couch, the fine dining experience cannot be replicated at home. People who want a break from cooking and to be served in a pleasant atmosphere still have to go to restaurants. Shopping mall owners are discovering that upgrading their developments with high-end restaurant construction can be a key in driving traffic to the mall.
Entertainment options. Recently, trends such as adding entertainment options like bowling alleys and video arcades have become popular. While not typical retail construction options for shopping malls, owners know they do drive foot traffic to their shopping centers.
For example, at Woodfield Mall, one of the Chicago area's most popular malls, the owners have decided to add Level 257, a video-game themed restaurant. Another Chicago area mall, Stratford Square, has announced the addition of Round1, a new bowling concept. These retail construction projects will help bring a new set of visitors to the malls that otherwise may never have ventured to the shopping center developments.
Movie theater enhancement. Sometimes, it's not enough to just offer a movie theater anymore. Shopping mall owners are trying to lure movie theater operators that have developed a new experience, thus, hopefully driving new traffic. Block 37 on Chicago's State Street just announced a new AMC dine-in movie concept. Several other movie theaters are providing options such as reserved seating or valet parking to differentiate themselves and create a new experience.
Create a town center feel. Sometimes, it's not enough to add new retail concepts. Creating an environment that can lead to several different experiences can be a game changer. Next to the Fashion Outlets of Chicago in Rosemont, Ill., the municipality has created an entire town center that offers several dining and entertainment options. Live music can be heard almost any night of the week at several venues and family entertainment is often staged in the new town square. It even has an indoor skydiving center. This retail construction project has been a boon to the city, as it is packed on weekend nights with everyone from families to couples and teens seeking entertainment and dining experiences. The Fashion Outlets benefit from this overflow traffic as well. Shopping center developers that cater to family entertainment have an excellent chance of wooing multiple generations of shoppers.
It's clear there is no single answer to enhance a shopping center development and make it relevant, but with retail construction projects that approach the traditional shopping mall in an innovative way, shopping center owners may create an experience that keeps them competitive in the new age of on-line retail.
Chuck Taylor
Director of Operations
Tel: 847-233-9200 x712
Questions? Comments?
You can reach me at
chuck.taylor@englewoodconstruction.com
www.EnglewoodConstruction.com