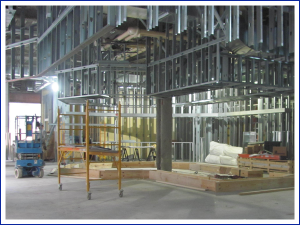 Construction season is upon us, and you know what that means…rising commercial construction costs.
The summer always brings more commercial construction activity, more bids, and, as a result, higher pricing. Many general contractors decide to lower their risk and start commercial construction projects in the warmer months, paying a premium for nice weather, but assuring timely delivery. Also, a lot retail construction projects are initiated in the summer to have everything complete by November 1, just in time for the holiday shopping season. The old target date was just before Thanksgiving, but now that Black Friday has become the biggest shopping day of the year, retailers and restaurants want to be up-and-running a month prior to prep for the big day.
As a result of this activity, subcontractors are busier, materials are in demand and pricing shoots up. According to Engineering News Record, June costs for commercial construction, building and materials were up more than two percent when compared to year ago.
The best general contractors can help soften the blow of price escalations through best practices and being savvy.
Here are six tips that the best general contractors should follow to help control escalating costs.
Don't skimp on architects. If there is one aspect of a commercial construction job worth extra investment, it is the planning and drawing stage. The best way to hedge against rising construction costs during a project is to lower the risk of unplanned change. A missed detail or shoddy work in commercial construction design can end up costing a lot. We have seen poor planning result in changes that accumulated to 10-15 percent of the original total commercial construction costs. Take it from us…pay reputable architects well, rather than finding an obscure one that may seem like bargain.
Design Build Firms. If you want to really mitigate the chance of a planning-stage disaster, it might be best to go with a design build commercial contractor. This way, all of the responsibility is on one firm. It's a common misconception that commercial construction general contractors make money on the change orders that sometimes take place during a project. Almost 100 percent of the cost is passed along to the subcontractors. The best general contractors want to avoid this scenario at all costs, because they don't want a reputation for bad project management. Hiring one commercial general contractor to initiate a design build project can be a smart move.
Reuse materials/systems when you can. On commercial construction retrofits and rehabs, if it is possible to use existing materials or systems such as air conditioners and plumbing, the savings can be significant. When estimating commercial construction costs, it is always good to evaluate the current condition of major building systems rather than simply ordering new.
List your needs, list your wants. The best general contractors should be able to give an "add alternate" bid when construction budgeting at the beginning of a project. This bid will include the commercial construction cost of all of the things that you need for the project and a similar bid listing all of the things you might want for a project. Brazilian wood floors are nice, but you probably don't need them. However, construction budgeting that cost up front and having that price locked in from the beginning can be very helpful. If you decide to do an upgrade mid-project, it's a lot tougher to get the best price, as commercial construction contractors have been selected and the bid is no longer competitive.
Buy domestic when you can. If the product is available in the U.S., it is generally best to buy it here, especially when it comes to things like furniture and equipment. You may be able to find it overseas at a lower cost, but is it worth waiting the extra 2-3 weeks it can take to ship that product to your commercial construction project? Time is money and waiting for products to arrive is not a good reason to delay opening a revenue-generating operation.
Plan for off-season commercial construction (if you can). This may sound basic, but a surprising number of operators don't think about this option. If you are not in a time sensitive situation, it might be best to bid and build your commercial construction project between November and May. You do face unpredictable weather in some parts of the country, but the pay off is pricing is much lower as there's less demand from construction materials and jobs.
Following these tips can help you beat those inevitable escalating commercial construction costs this time of year. Like with most things, there is no one silver bullet to achieve this goal, but a good general commercial construction contractor should be able to approach the task holistically and find numerous ways to keep commercial construction costs down.
RECOMMENDED LINKS:
How to Decrease Commercial Construction Costs by Reusing the Right Items
The Ultimate Office Design Build Case Study – Us!
Commercial Construction Best Practices: Debunking Construction Change Order Myths
Chuck Taylor
Director of Operations
Tel: 847-233-9200 x712
Questions? Comments?
You can reach me at
chuck.taylor@englewoodconstruction.com
www.EnglewoodConstruction.com