How Developers Can Decrease Operating Costs by Thousands of Dollars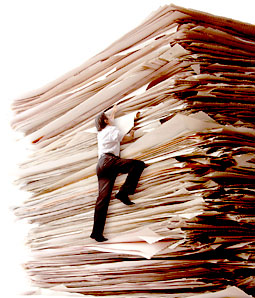 How would you like to "find" thousands of dollars in your operating budget?
All you need to do is answer a couple questions. How did you file the documents for your last commercial construction project? Did your general contractor give you a big fat binder of information including your warranty letters, operating manuals, as-built drawings, etc? If so, you probably put those documents in a banker's box or two and then stored them in your office. Or maybe you paid to have the documents stored in a warehouse.
Not even two years ago, Englewood Construction was guilty of all of the above scenarios. But not anymore. In fact, by doing away with those old-school storage methods we've been able to save hundreds of thousands of dollars. How? By moving to a paperless project management software system.
Simply put, the paperless construction project management system we implemented houses all documentation for each of our jobs in one electronic folder hosted on our web site. This means that all parties working on a job (us, the client, subcontractors and architects) have access to all job files 24/7, which is ideal when you have multiple projects in different time zones.
How can this save you thousands of dollars in saved storage costs? Well, it's a domino effect of savings. By moving all correspondence and documents online you eliminate the cost to print dozens of copies of blueprints, design-build schedules, etc. And without anything to print, then there's nothing to mail – no more fees for overnight bid-request mailings. And with all of your documents and photos saved online, you have nothing to put in a banker's box, which means you have nothing to store, i.e. no storage fees. It all adds up.
Of course there are some documents, such as lien waivers, and those that require a notary that still call for originals. These do need to be sent through the mail, but all other correspondence can be filed online.
Operating your business with a paperless system may seem challenging to many of you. I know it was for me. I'm an architect, so I'm used to holding plans in my hands and sifting through documents at the airport. But I also embrace change when it's good for business. And going paperless is good business. In one year it saved us more than $150,000 in printing costs alone. It's also good for the environment – another one of my pet projects I'll blog about later.
So whether you align yourself with a commercial general contractor who already uses a paperless system or you create your own paperless project management process, realize there are steps you can take to decrease operating costs.
If you have more ideas for decreasing operating costs, I'd love to hear them. Also, to learn more about Englewood Construction's paperless system, click here.
Bill Di Santo
President
Tel: 847-233-9200 x710


Questions? Comments? You can reach me at bill.disanto@englewoodconstruction.com
kz9m452wbc