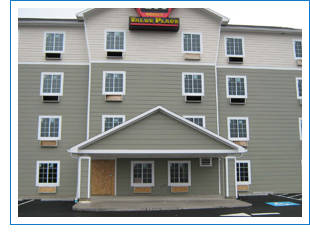 I'm not going to sugar coat it. Whether you're a bank with distressed assets on your balance sheet, or you're a real estate investor/developer who purchased a foreclosed commercial property, creating a viable workout plan can be an uphill battle. Each passing month brings further physical deterioration of unmaintained assets.
However, there are ways to stop the bleeding and minimize the costs of owning, maintaining and repositioning distressed and foreclosed commercial assets.
First, align yourself with a general commercial construction contractor familiar with completing distressed commercial properties. According to the fall 2009 issue of Development magazine, while hotels and retail properties are the most problematic in terms of default, foreclosure or bankruptcy, office distress is up 118 percent year-to-date in 2009 versus 2008. So make sure your general contractor specializes in the asset class of your distressed holdings.