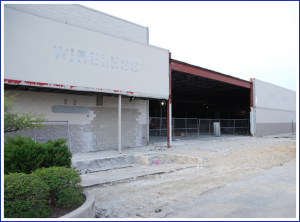 It's that time of year when our team predicts the commercial construction trends for the upcoming year– from what's on tap for Chicago retail construction to national restaurant construction and hospitality construction. We've compiled the list below based on conversations with clients and fellow commercial construction experts, upcoming bid work, economic projections and observations in the field.
1. We Are the 99 Percent – Following along with Occupy Wall Street, value-based new retail and restaurant construction projects that target 99 percent of the population will continue to be hot. Watch brands like Ross Dress for Less and Savers continue to gain momentum. Currently Savers has three Chicago-area locations, but we wouldn't be surprised to see that number increase.
Growing retail brands likes Advance Auto and Auto Zone that help consumers save money by keeping their cars longer should also continue to do well. From what we hear on the commercial construction news front, if there will be any new shopping mall construction projects next year, they are likely to be outlet malls – a category that is seeing an uptick after a few quiet years.
New hospitality construction projects in 2012 will also focus on the 99 percent. Most hotel brands are building residence inns and business inns vs. their high-end flagship brands. Expect to see hotel construction in the extended stay market grow next year with an emphasis on highly amenitized rooms.
2. The 1 Percent Still Matters, Too – When it comes to luxury retail construction, look for high-end brands to focus on retail renovations of existing locations. These established high-end retailers are taking advantage of market conditions to build bigger and better stores. There is always at least one big Michigan Avenue retail construction project a year and right now Burberry is expanding its Michigan Avenue space from two stories to five stories, plus one basement level.
3. Creative Deal-Making – As obtaining financing for commercial construction projects continues to be a challenge for some developers, look for creativity behind the scenes. We have been approached a couple of times to become an equity partner in a project in order to win that construction job. We are not developers, so that doesn't work with our business model. But, that doesn't mean you won't see other commercial general contractors cough up cash to win a job. However, we feel the best Chicago contractors, or any commercial contractor, should focus on what they do best, which for us is construction.
We also see no slowing down in providing developers conceptual commercial construction budgets. Deals today are tougher to make and developers want to make sure there aren't any hidden numbers.
4. Entrepreneurs Are Hungry – Necessity entrepreneurship often emerges during a recession. For those who cash out their 401Ks, many go into business for themselves in the restaurant franchise market. We mentioned this rise in fast-casual franchise restaurants in our 2011 commercial construction trends blog post and we think it will only continue in 2012, particularly in the restaurant construction of sandwich/hamburger shops. The Subways, Quiznos, Five Guys and Smashburgers of the world will continue to dominate the value-add franchise sector. And keep your eye on Capriotti's Sandwich Shop, which has plans to add 300 new restaurants in the next five years.
Also look for fast-casual restaurant construction jobs to go smaller – in terms of square footage. Reports from some restaurateurs say the majority of their sales are from take-out, so they are moving to building smaller spaces.
5. Anything Goes – The old rule of successful shopping center development was not to mix retail tenants with medical tenants. Having a restaurant next to a dentist office was suicide for the center. But now, shopping mall landlords need to fill the space so anything goes, even if the stores may not be the best fit for mall. A lot of these random tenants are independent retailers, which unfortunately do not place the highest standards on shopping center construction, but they pay their rent and fill vacancies, so that's what matters at the moment.
What commercial construction trends do you think we'll see in the upcoming year?
Bill Di Santo
President
Tel: 847-233-9200 x710
Questions? Comments? You can reach me at
bill.disanto@englewoodconstruction.com