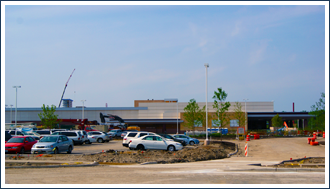 In Chicago commercial construction news, everyone knows the big buzz right now is on the pending Chicago casino. Although many sites have been mentioned, the Chicago casino location is still undetermined, and for the purpose of this blog post, that's okay. Because regardless of where the downtown casino is located, there is a commercial construction checklist of best practices that a successful casino developer needs to keep in mind.
The most important aspect to any casino construction job is the electrical work. It has to be perfect, so the electrical commercial construction subcontractors need to be the best in their field. There could be a power outage outside the casino, but no disruptions can take place within the infrastructure of a casino's electrical system.
A casino is an entertainment-based themed experience, which means there can be no room for error in commercial construction work that affects the clientele's comfort level, such as the HVAC system.
You can never have too many bathrooms.
Whether you're building a casino in a city or the suburbs, labor rates are going to be similar. However, you will likely see an increase in Casino constructions costs when it comes to the logistics of getting materials into the city, and ultimately, moved into the project. Whether the casino location ends up being a site like Navy Pier, the old Chicago Main Post Office or Block 37, there will be more commercial construction challenges and coordination of delivering materials than with the new Rivers Casino in Des Plaines. More challenges = higher commercial construction costs.
Bigger isn't always better. The size of the new downtown Chicago casino hasn't been determined, but it won't be as big as the other Chicago-area casinos. With enough hotels and restaurants in downtown Chicago, this new casino likely won't require new hotel construction and will have limited casino restaurant construction. That said, the casino developer would do a disservice to the project by hiring a big general commercial construction contractor. Why? Because most general contractors put their best people on their "biggest" projects (think square feet and revenue). In terms of size, this casino won't be that big of a project for a large commercial general contractor. Instead, it's likely to fall to their special project team – i.e., not the A team. The best Chicago commercial contractor for this casino is likely to be a smaller firm.
Get the GC on board as early as possible to work alongside, not behind, the architect. As most every potential site mentioned for the casino will mean a retrofit construction job, the general commercial contractor needs to get in early to perform commercial construction CSI and remove the construction demons from the site. This is especially true for neglected commercial properties, such as the Post Office that have been vacated for awhile.
And despite the headline for this post, we think a downtown casino is a guaranteed bet for the house (developer), the city and Chicago's commercial construction industry. I'll admit, a casino wasn't on our radar for commercial construction trends 2011, but it's a happy surprise. No matter where the casino ends up, it's going to bring jobs to the city – both in building the casino and operating it. Plus, all the trickle-down new construction work, in the form of new storefronts that are likely to pop up around the casino, will create even more jobs and spur the economy.
Deal Englewood Construction in!
Chuck Taylor
Director of Operations
Tel: 847-233-9200 x712
Questions? Comments? You can reach me at
chuck.taylor@englewoodconstruction.com