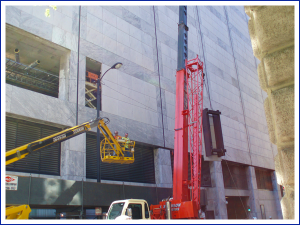 We never like it when scandal rocks the commercial construction industry. Commercial general contractors generally don't find their way into the mainstream news unless it is for something negative, often involving criminal activity. Unfortunately, there have been several high profile news stories recently featuring national commercial general contractors engaging in fraud or out-right theft. I'd like to say every commercial construction firm out there is honest and forthright, but as we all know, that's not how things work in the real world. People and businesses will sometimes take advantage of others or misrepresent themselves to get ahead.
These episodes always seems to cast a shadow over the entire commercial general construction industry in the public's eye, when, in fact, the overwhelming majority of successful commercial general contractors are hard-working, honest businesses that maintain wonderful client relationships and deliver excellent work.
But the saying goes, all it takes is a few bad apples…
Rather than going into a lengthy condemnation of firms engaging in shady practices, or, spend too much time defending an industry that really shouldn't need it, I thought it might be helpful to point out a few warning signs for tenants and owners to keep on their radar when reviewing commercial general contractors. The next time you are looking to develop a retail construction project or a restaurant construction project, take note if the commercial construction company bidding the job is attempting to do any of the following:
Be wary of construction contractors who are willing to drop fees. A properly-sized commercial general contractor is going to maintain a certain amount of overhead. That's a given. If a firm is aggressively trying to drop its fees to win your business that should be a red flag. Commercial construction companies need fees to cover their overhead. It's safe to assume that they are not going to work for free. So…if they are dropping fees, the money will likely come from somewhere else. That should make a client nervous.
Look for self-performance line items in proposals. This is a very grey area in the commercial construction world and it typically benefits the contractor, not the client. It is a tool that contractors can potentially use to make up money and fees. For example, a commercial general contractor may self-perform the installation of concrete, masonry or carpentry. These are potential line items for contractors to bury costs if they are not receiving competitive bids from the marketplace. One of your qualifying questions should be "what, if any, divisions of work does your company intend to self-perform?" If there is a scope the commercial construction company intends to take on itself, there should be proposals they can provide to justify why they are keeping that work in-house.
Don't work with construction contractors unwilling to lay the proposals on the table in a negotiated project. If you are in a negotiated contract situation it should be a transparent process. The contractor should always reveal its lowest bid for every aspect of the project. If a commercial general contractor is unwilling to do this, you could have a problem. By not showing its lowest possible bids, a commercial general contractor may be cherry-picking more profitable bids for itself and its subcontractors. Those higher bids might be the one a client ultimately chooses due to the quality of the subcontractors involved, however, it's a client's right to see the lowest bids. This scenario does not apply to competitive bids.
As I said, the overwhelming majority of commercial general contractors are upstanding businesses, but it never hurts to be aware of items that could protect your business from fraud or theft.
And one final piece of commercial construction best practices advice…be sure to check all of the construction company's references. Directly speak to people they have worked with, in both competitive and negotiated bid scenarios. This will give you a much better understanding of the firm.
There's no need to cheat to get ahead. When you see the fines levied against firms engaging in deception and fraud, it hardly seems worth it. Just do good business and the clients will come.
Chuck Taylor
Director of Operations
Tel: 847-233-9200 x712
Questions? Comments?
You can reach me at
chuck.taylor@englewoodconstruction.com
www.EnglewoodConstruction.com