If you are a player in the retail world, odds are you spent a few days in Las Vegas last month at ICSC's "Global Retail Real Estate Convention" (RECON). For one week each year, the commercial construction industry converges on the desert city as national retail construction firms, retail brokers and retailers all get together to make deals and plan for the following year. It's always an exciting event for the retail real estate industry.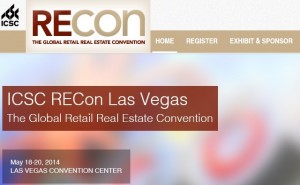 This was my 18th time at RECON, and I have to say, I left much more upbeat than I have in previous years. I felt like this was the largest RECON I've attended since 2008, the last year of the retail construction boom. Last year's RECON, as noted on this blog, was very positive, but there was still an element of caution in the air. Retailers and retail construction firms were ready to get back to work, but a key part of the equation was missing—commercial real estate lenders were not fully on board with new retail development yet.
If the buzz at this year's RECON is an indicator of future retail trends—and it generally is—then the tide is about to change quickly, as commercial real estate lenders are now demonstrating real interest in new retail construction.
Here are my three takeaways for retail construction trends from RECON 2014:
Money is out there. From meeting with our connections in the commercial real estate banking industry, we've been assured there is no shortage of financing for commercial construction projects today. In fact, our commercial real estate financing sources are actively reaching out to us to see what our developer clients are working on. They are all looking for quality commercial construction projects and want to fund new commercial real estate development opportunities. This is a far cry from the last few years, when commercial construction firms and some retailers were ready to go, but lenders were still apprehensive. Today, commercial real estate lenders are complaining about the difficult competition in the lending market and the lack of quality commercial construction projects to finance. Which brings us to the second trend…
Tenant scrutiny. While money is readily available, commercial real estate lenders won't just give it to anybody. That's probably a good thing, but it will likely keep commercial construction levels from reaching full potential in the next few years. In the past, location was enough to get substantial commercial real estate financing, but today's lenders need to see a healthy tenant roster as well. Six or seven years ago, a mom-and-pop shop or an unproven international retailer could get a prime spot in a shopping center. Not today. Now, lenders want to see national, proven retailers attached to a commercial construction project, which amounts to low risk for them. In fact, when putting together shopping center construction deals today, we are often given a list of retailers from lenders that we can't pursue. Some of the names wouldn't be shocking, but it does show a change in the commercial lending environment. If you don't have a stellar tenant list, don't bother asking for the money.
The bigger the better. Real Estate Developers are looking for large ground-up retail construction projects or significant retail redevelopment opportunities. We are currently in the design process with a client for multiple major shopping center redevelopment projects across the country. This hasn't been the case in recent years, but the trend seems to be changing. In the Chicago-area alone, we can point to several major shopping center construction projects taking place. In Chicago, the New City Project is underway in Lincoln Park's Clybourn Avenue corridor, an addition is being put on the Chicago Premium Outlets in Aurora, a new outlet center is going up in Country Club Hills, and a redevelopment will be taking place at the Charlestowne Mall in St. Charles, along with additional space being added to Hawthorn Center in Vernon Hills. We haven't seen that much new retail construction at once in quite some time.
All and all, it was a great experience at ICSC once again. The trend I'll take away that got me most excited is the commercial construction industry can think big again. It's been a long time coming.
Bill Di Santo
President
Tel: 847-233-9200 x710
Questions? Comments?
You can reach me at
bill.disanto@englewoodconstruction.com
www.englewoodconstruction.com