As we have mentioned in previous posts, opportunities abound for investing in underperforming shopping malls right now. As the economy improves and prices hit bottom, these transactions have become more realistic for commercial real estate investors when compared to past years.
However, like all major investments, due diligence should be a major component prior to the purchase. Perhaps the most important aspect in this process will be engaging a national retail commercial contractor for advice and feasibility studies. Many of these purchases will come with a significant retail renovation and construction component that is imperative to making your overall deal work and keeping your commercial construction budget in line.
Here are some points to consider before purchasing an underperforming shopping mall.
1)   Don't be afraid of a big retail construction project. Believe it or not, a lot of shopping center landlords and retail investors are afraid of a shopping mall construction project. They think major retail construction turns people away from their shopping mall. In fact, just the opposite is true. Shopping mall construction attracts curiosity and builds buzz for a shopping center. People want to know what is going on, and a shopping mall owner showing a proactive approach can also help lure new tenants. Don't be afraid of shopping mall construction.
2)   Know your construction limits. While you shouldn't shy away from a major shopping mall construction project, it's also important to know your limits. The best national retail construction firms will have significant shopping mall experience and can gauge just how much retail construction work an underperforming mall will need to make it viable. If an older shopping mall is a complete gut rehab, it may not be as financially viable of a project as originally thought, no matter where the location.
3)  Develop a support plan for national retailers. A shopping mall is only as good as its tenants and large, national retailers are typically the biggest traffic draw. Shopping mall investors should know the amount of interior construction upgrades and tenant improvements it will take to keep current marquee tenants happy. Also, national tenants like to be located by other national tenants. Will the shopping mall require significant build-out work or floor plate reconfiguration to accommodate more national retailers? These are questions that have to be asked. It would be a waste to purchase a shopping mall only to see top tenants leave.
4)  Know the status of existing mechanical infrastructure. It's best to know the status and potential lifespan of main mechanical, electrical and HVAC systems. If their services can be prolonged, it can make all the difference for a successful retail construction project. This would allow more funds to be directed toward other shopping center construction needs. If new systems need to be purchased, it can be factored into the cost, or, the investor may look for a better space elsewhere.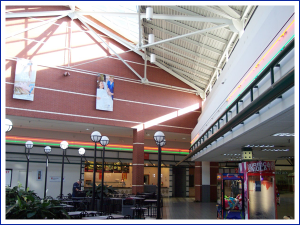 5)  Do you really need all that anchor space? Sometimes, the smartest thing to do is shift strategies and re-imagine a property. In the changing retail landscape, many regional shopping malls don't support more than two or three anchors, yet they were originally construction to house more. Rather than killing yourself for a lease that may not be coming, sometimes it's best to repurpose some anchor space. The space could be reconfigured to house two or three regional tenants, or, perhaps a more interesting approach, it could be chopped off all together and rebuilt as a dynamic food court with fast casual chain restaurants. We've seen both approaches done with success.
We're certain this shopping center construction trend will continue in 2014 and beyond, but like all retail construction projects, each will require its own unique approach. For those commercial real estate investors willing to review several construction options and consider different retail construction strategies, the path to success may be all the more apparent.
Chuck Taylor
Director of Operations
Tel: 847-233-9200 x712
Questions? Comments?
You can reach me at
chuck.taylor@englewoodconstruction.com
www.EnglewoodConstruction.com