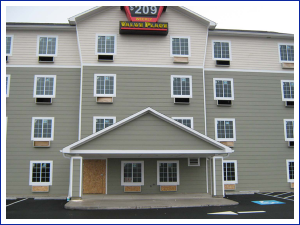 It's not just foreclosed homes that are looking like a bargain to real estate investors in today's market, but also distressed commercial assets. Most of these REO commercial properties fall under the multi-family construction sector, but there are also abandoned retail and restaurant spaces, not to mention hotel construction projects that have stalled and are now ripe for the picking.
But, before you purchase a distressed commercial asset, you need to do your due diligence and enlist the pre-construction services of a commercial general contractor to ensure that the price for the property makes sense once you factor in the commercial construction costs for bringing a stalled project back to life.
Here are just a couple things that the best commercial contractors will know need to be answered before you consider taking over a distressed construction project.
First, the property needs to be assessed and you need to determine what was the original intent and where did the previous developer and general contractor leave off?
Is the project so far along in its original intent that you need to complete it that way or is it in a position that you can change direction without losing any previous investment?
What construction costs were expended prior to the project stopping and have those costs been satisfied? I.e., are there any subcontractors that have a lien on the project? When we take over stalled construction projects we try and use the same subs from the original project. Not only are the subs already familiar with the work that needs to be done, but it's fair and good business.
Is the building and construction site secure? Specifically, are the utilities secure? Your GC should check for open power panels and if there are any electrical concerns. Is there any wild water? And if you're tackling a winter construction project, are there any frozen water valves? Is the gas running wild or has it been shut off properly?
If the REO commercial project you're looking at still has the same landlord as before, there is the potential that some of the original paperwork is still intact, so you should ask to see what was paid to date, etc.
While you'll always have access to the original drawings for the project by contacting the municipality, you should also reach out to the architect for additional information. There might also be the chance you need to settle with the architect.
The best general construction contractors will also reach out to the municipality just to let them know you are going to be working on this stalled project. As has been the case in some of our takeover construction projects, municipalities are so excited that work is continuing on an abandoned site that they wave certain fees and costs.
Of course, you should also check to see how the property sits with the municipality and jurisdiction authorities. Are there outside fees that you need to settle with the municipality?
If you are going to follow the original intent of the project, is the permit still in place or do you need to file for a new commercial construction permit?
A good GC will also tell you that contingencies will need to be put into place for this type of work. The commercial construction costs for some items will be cut and dry, while other costs will be unknown as abandoned projects have been known to have hidden construction site demons.
It's not always easy to just pick up where the previous commercial developer or owner left off, but as general contractors, our job is to educate our clients and make sure they have clear expectations on what it is going to cost to complete a distressed project based on all the pieces we have put together.
Chuck Taylor
Director of Operations
Tel: 847-233-9200 x712
Questions? Comments?
You can reach me at
chuck.taylor@englewoodconstruction.com
www.EnglewoodConstruction.com