If you're like me, your social media feed this month is filled with photos of happy graduates celebrating commencement and getting ready to begin the next chapter of their lives. Hopefully, we'll see some of those fresh young graduates heading toward a career in commercial construction. Part of the reason I say this is the current hiring situation in the construction industry. As media outlets continue to report, there's an ongoing commercial construction labor shortage that is impacting everything from availability of skilled subcontractors to the increasingly competitive hiring market for construction management professionals. In fact, demand is so high for veteran construction pros that Englewood is increasingly focused on recruiting new graduates and training them to meet our needs – particularly for our office staff of construction project managers, engineers and estimators.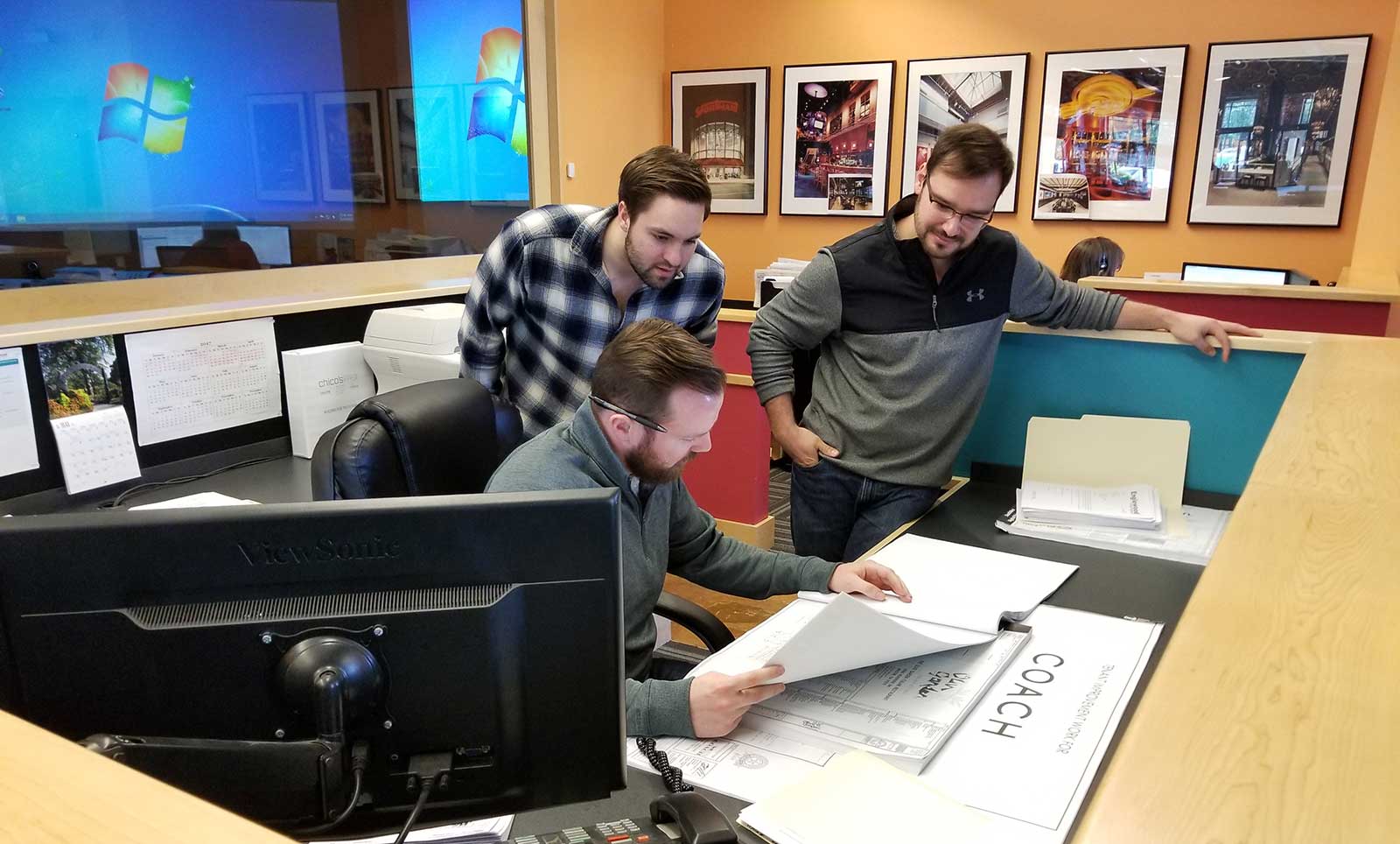 But more importantly, I also love to see the next generation entering the construction field for the many positive benefits they can bring to the industry. Here are just a few of the reasons we value our "farm team" – as we affectionately call our younger staff at Englewood – and some examples of how a junior crop of employees can make an immediate impact:
Going High-Tech is Second Nature
While innovations in actual construction techniques are relatively few and far between – brick is still put over mortar is still put over brick – there's no doubt new technology is changing how commercial construction firms do business. To remain competitive and relevant – particularly with large-scale, ground-up projects – successful construction firms are incorporating BIM technology, using drones on construction job sites, implementing new construction project management platforms and coming up with new and better ways to serve their clients and improve project efficiency.
When it comes to figuring out where these new technologies can add the most value, younger employees can be a huge asset. Not only do they simply have a built-in comfort level with using and manipulating technology that those from other generations (ahem) can sometimes lack, but they also have a familiarity with these specific concepts and construction technologies thanks to today's construction management degree programs (see more below). That means there's less of a learning curve, allowing them to hit the ground running when it comes to implementing construction technology in a real-world setting.
Fresh Thinking for Old Challenges
Young employees are also great for bringing fresh thinking and a new energy to how we approach our business. Translation: a younger employee is simply less likely to continue doing things the same old way just because that's how it's always been done. A lot of this goes back to an ingrained excitement for trying new things, and then finding the best business application.
For example, I was blown away when some members of Englewood's facilities management team showed me how they are using QR codes to manage facility maintenance service calls and track facility maintenance work. Essentially, our team tags anything and everything a client wants to track maintenance on with a QR code – this could include individual equipment pieces such as HVAC units, or even a specific location within a fleet of restaurants or retail stores. When the client needs to make a maintenance request, they scan the appropriate code with their smartphone and it activates response software, which in turn notifies our team and dispatches a service tech. Upon arrival, the tech scans the same QR code with their smartphone to confirm what they are working on; the code also pulls up maintenance history, and can even access relevant manufacturer manuals. Plus, each step is logged in real time, completely changing how we communicate with our facility management clients.
Not Your Grandfather's Construction Management Program
Not too long ago, young guns had a couple options if they wanted to break into the construction industry. They could start out in the field and work their way up; or, if they were taking the college route, they would typically get a degree in either architecture or engineering. As a result, college grads entering the field had a pretty specific focus and narrow set of skills. But today that's all changed thanks to building and construction management degree programs.
Not only are these programs more commonplace today, but they are also increasingly sophisticated in giving students a well-rounded background in construction techniques, planning, construction management and technology. We see more and more construction management graduates in the hiring pool, and we actively recruit from a number of these programs. While a degree by itself doesn't guarantee success in a given career, the skills new grads bring to the table can be impressive – from the ability to manipulate and mark up documents for architect review, to a natural ability to embrace new technology and methods.
Many congratulations to the class of 2017! I'll be watching to see how you find your path and leave your own mark on the commercial construction industry.
Chuck Taylor, Director of Operations
Tel: 847-233-9200 x712
Questions? Comments?
You can reach me at
CTaylor@eci.build
www.EnglewoodConstruction.com